This is written very much from a personal point of view... You can read about the area in guide books and on the internet but here I focus on OUR opinions, views and favourite places... Favourite places can depend on the time of year the time of day or your own mood! I've tried to put them in order of distance from the cottage... It's really hard NOT to go into too much detail, when you know places - and love places - as much as we love these towns and villages... Equally, it's hard to choose photos, and I've tried to include some showing different seasons, not just July and August... 
Castiglione del Lago: Less than 10 minutes drive away, our local town has a great atmosphere, bars, restaurants, a large market on a Wednesday, and of course, the Medieval Fortress itself... The old town is on top of a hill and stands proudly on a promontary looking out over the lake. The views from the town are wonderful! It's a friendly town and there are shops selling local specialities - pecorino cheese and salami - wild boar (cingiale), a variety of conserves ( I like zucca and cannella - squash and cinnamon), local olive oils, wines, plus products made from olive wood such as chopping boards. the three islands... On the lake itself there are things to do - water skiing, canoeing, swimming... From around Easter to October, you can catch a boat out to Isola Maggiore which has a couple of restaurants and shops, plus two churches and a Lace museum... I love having a leisurely lunch on the island, followed by a walk up to one of the churches... 
Panicale: A hilltop town full of character and often referred to as the "Balcony or Trasimeno" because of it's vantage point, looking towards the lake in the distance. It has a lace museum, a couple of bars, restaurants, and in the summer - usually on Thursday evenings - there are live concerts in the square, around the fountain.  
Passignano-sul-Trasimeno: About 20 minutes drive around the lake - Passignano is a perfect place to sit by the lake with a morning coffee or ice cream, or to watch the sunset... It's one of my favourite places, whatever the season. Again, you can catch a boat out to the islands.
Montepulciano: The drive to Montepulciano winds up and up and, again, the views - over the wonderful Val d'Orcia and Val di Chiana - are spectacular. It's famous for its Nobile di Montepulciano red wine, and the drive to this hilltop town meanders past vineyards and cantinas. Montepulciano is full of elegant Renaissance palaces, ancient churches, charming squares and hidden corners.... plus, as you'd expect, a number of interesting shops and many bars and restaurants, where you can try out the wine and watch the world go by... The main street is very, very steep, so it's not a day for high heels!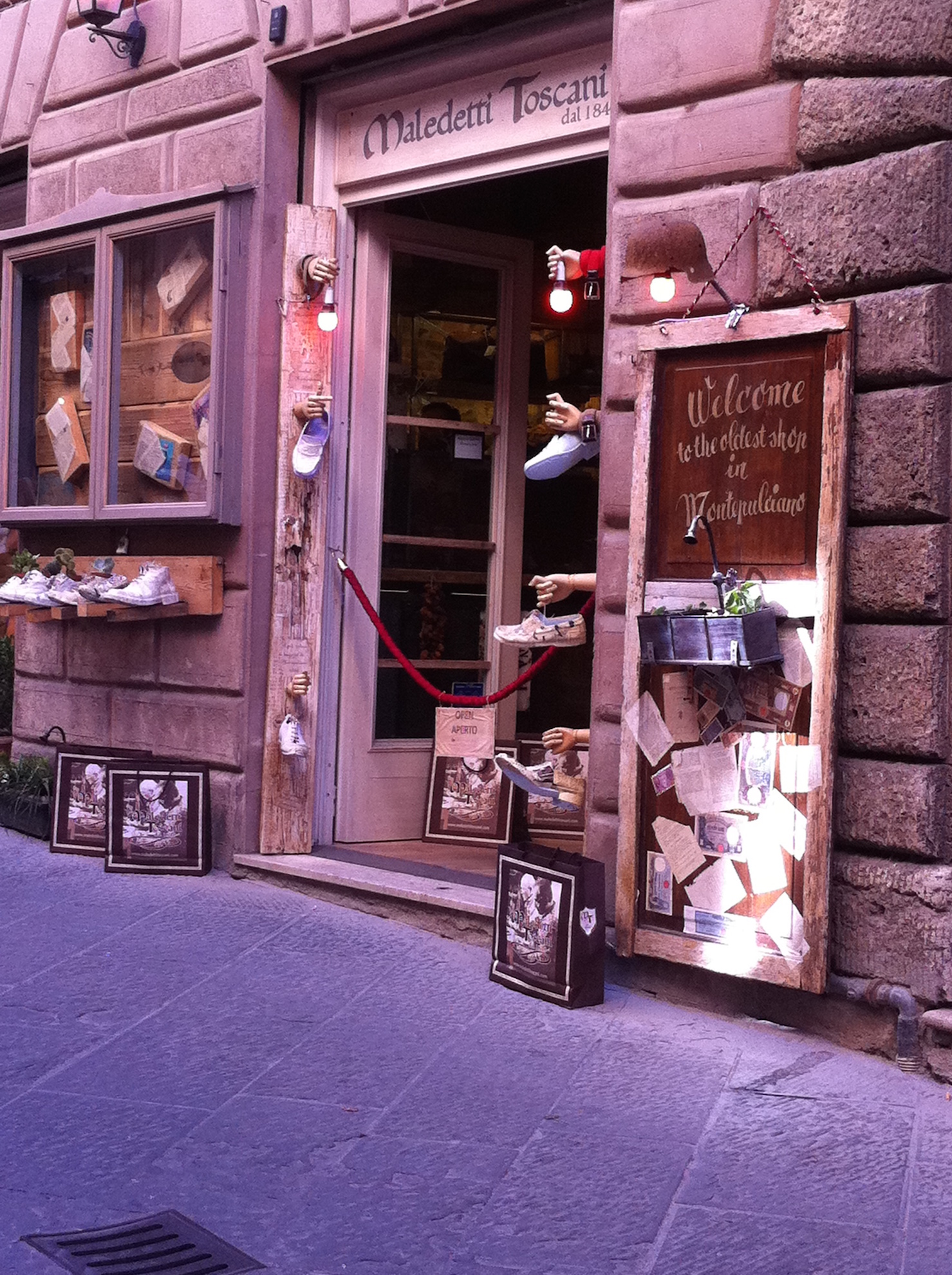 Cortona: Another favourite, at any time of year which is often called the "Jewel in the Tuscan crown"... There are beautiful churches and museums where you can see fabulous paintings... I love art, and they ARE definitely worth a visit - I love Fra Angelico's "Annunciation" in the Diocesan Museum, opposite the Cathedral... However, to me, Cortona is for arriving (by escalator!) and turning round to admire yet another incredible view, out over the Valdichiana to Lake Trasimeno in the distance... It's about buying an ice cream from the wonderful gelateria on the right as you enter the town...wandering along the Via Nazionale, browsing in beautiful shops... Having an early evening process with crostini and just relaxing! There are cafes, bars and restaurants... It's a lively place to be, and there are often festivals, events or exhibitions. The "Under the Tuscan Sun" festival (The novel - and film - of that name is based in Cortona) takes place every summer and draws international artists and performers. 
Valdichiana Outlet Village, Foiano della Chiana: This shopping village houses over 140 famous designer and shops that offer 30 - 70% discounts all year round and during sales periods further discounts and offers are made. There are clothing and homeware stores, shoe shops and bag shops... plus cafes, of course...
Città della Pieve: Città della Pieve is very un-touristy town and is always a pleasure to wander round, especially on Saturday, which is market day. It houses some wonderful works of art by its very own famous renaissance painter, Pietro Vannucci, known as Il Perugino There are wonderful festivals here throughout the year and a real sense of city pride in the people. The buildings are characterised by beautiful brickwork; this area is famous for its clay soils, and centuries ago was a centre for brick making. The Palio of Città della Pieve is one of the best medieval festivals in Umbria and usually takes place in August. 
Pienza: One of the few towns which is NOT a hilltop town, though the road itself climbs slowly upwards as you drive towards it... It is so pretty, and has many beautiful artisan shops for browsing - food (it is famous for its Pecorino cheeses), jewellry, leather goods, ceramics, ironwork, clothing and footwear... There are restaurants and bars and of course views... Spectacular views over the Val d'Orcia... It was designed - by Enea Silvio Piccolomini who later became Pope Pius II - as a "perfect" Renaissance city. He had the money and influence to transform his birthplace village into what he considered a Utopian city. The project was created by the architect Bernardo "il Rossellino" and in only 3 years, a group of amazing and harmonious buildings were completed: the Cathedral, the Piccolomini Palace and the lovely central square onto which all of these buildings look...
The Val d'Orcia: We LOVE, love this valley... The landscape is quite distinctive, the soil seems to add a unique colour and texture... It boasts rolling hills of grain or sunflowers, a green valley which encompasses the Orcia river, and vineyards - it is the land of the renowned Brunello wines... It is protected as a World Heritage Site by UNESCO. Pienza is on the very edge of the Val d'Orcia, and from the city walls you can look out over the valley, and see the road winding across this stunning landscape... 
Bagno Vignoni: This is a very special place! It is one of Tuscany's oldest tourist destinations and yet, although I have visited many, many times, I have never seen it busy... I have never seen more than a few other visitors... Never had it's beauty and tranquility spoiled by crowds... Bar Le Terme is both bar, restaurant and hotel, and it's a great place to stop. Slightly out of the village itself, you can dip your feet in the thermal water in the small stone cut waterways as centuries of tired travellers have done... At the heart of the village, instead of a town square, there is a the "Square of Sources" instead, a beautiful sixteenth century pool of warm water...
Other Val d'Orcia towns are Castiglion d'Orcia, Radicofani, and San Quirico d'Orcia... This last is a lovely place to stop for lunch, then wander around the Horti Leonini gardens, a lovely example of Italian Renaissance gardens, sometimes used for temporary sculpture exhibitions. San Quirico was a very important stop in ancient times - it sits along one of the pilgrimage routes, the Via Francigena, that connected northern Europe to Rome in medieval times. The town is divided in half by the main street, Via Dante Alighieri, with most of its fortified walls still standing. The wonderful (and much photographed...especially by me!) Collegiata of the Saints Quirico and Giulitta, is a beautiful Romanesque church with Gothic and Baroque additions. The stone is weathered and marked with holes; the doorways are beautiful, and there are sculptures all around including lions guarding the various entrances...
Montalcino: Famous for Brunello di Montalcino wine Montalcino is surrounded by miles and miles of vineyards... The town has been made incredibly rich and famous by this wine, which is one of the world's most appreciated Italian wines. The historical center is dominated by the imposing Rocca (fortress) built in 1361 to mark the passage of Montalcino under the domination of Siena. The views from its ramparts stretch towards Monte Amiata, across the Crete to Siena, and across all of the Val d'Orcia and the hills of Maremma. Even the views from the town's car parks are spectacular!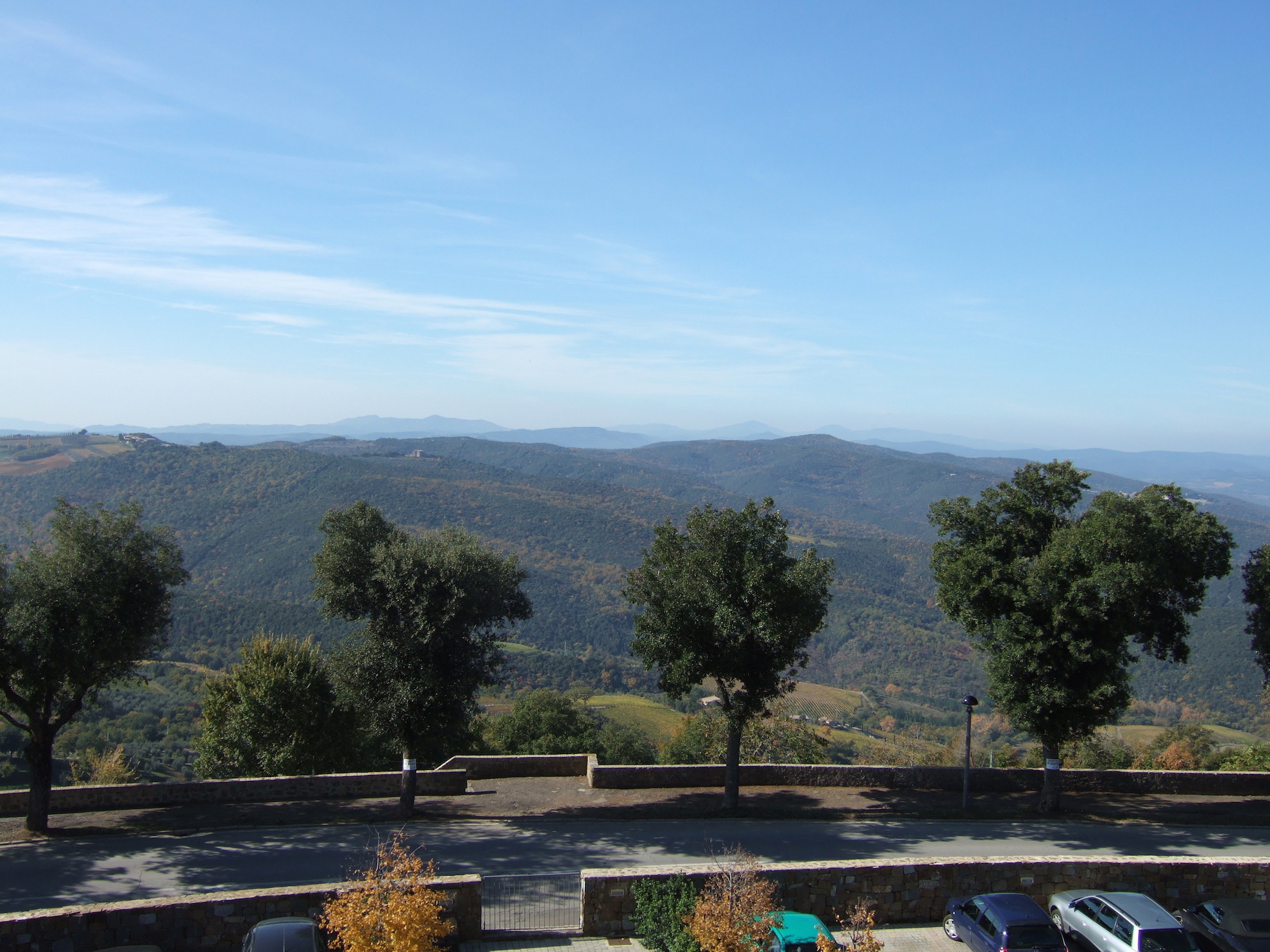 San Antimo: The Abbey of San Antimo is just outside Montalcino; it is stunning, magical, almost unreal in its quiet beauty. It is one of Tuscany's most beautiful examples of Romanesque architecture and was one of the most powerful monasteries around Siena in the medieval ages. The drive towards it is so pretty, the interior simple and thought-provoking... If your visit coincides with prayers, the voices of the monks create a most special atmosphere.
Monte Oliveto Maggiore: This stunning Abbey - perched on top of a cliff - is not in the Val d'Orcia but in the Crete Senese area. Monks still live here and the church is used for religious purposes, and the monks produce wine and various herbal remedies. The Great Cloister, beside the church, has a famous fresco series about the life of St. Benedict by the painter il Sodoma (Giovanni Antonio Bazzi) in the late 1400s. These large, beautiful and very detailed frescoes tell the story of the life of Saint Benedict and are on the four walls of the cloister, which has an inner courtyard that brings natural light onto the frescoes.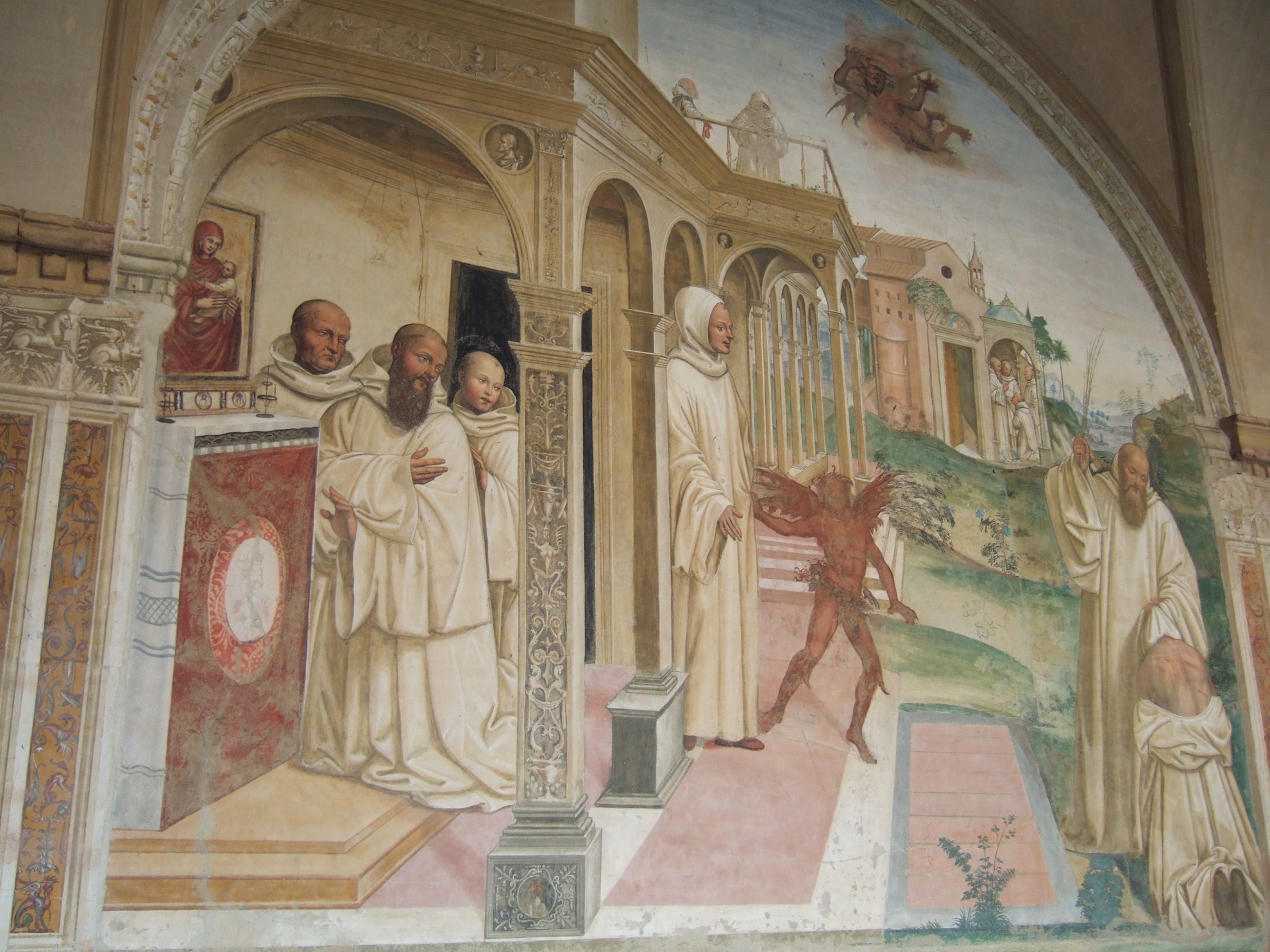 Orvieto: A day trip to Orvieto is always a highlight of my holiday, whether I travel by train or car... Actually, the train is a little easier - you park in the modern town and catch a funicular, then bus, to the beautiful hill-top town. I could describe it myself, but I like some of Rick Steves' description in his essay: "Orvieto: What an Italian hill town should be", which I quote here... "Orvieto is one of the most striking, memorable, and enjoyable hill towns in central Italy... Orvieto sits majestically high above the valley floor atop a big chunk of tufo volcanic stone, overlooking cypress-dotted Umbrian plains. A visit here will reward you with a delightful, perfectly preserved, and virtually traffic-free world highlighted by a colorful-inside-and-out cathedral and some of Italy's best wine... Orvieto's cathedral gets my vote for Italy's liveliest facade. This colorful, prickly Gothic facade, divided by four pillars, has been compared to a medieval altarpiece — a gleaming mass of mosaics, stained glass, and sculpture. It's a circa 1330 class in world history, back when no one dared question "intelligent design." Things start with Creation and end with the Last Judgment... The cathedral's highlight is the Chapel of San Brizio, featuring Luca Signorelli's brilliantly lit frescoes of the Day of Judgment and Life after Death. Although the frescoes refer to themes of resurrection and salvation, they also reflect the turbulent political and religious atmosphere of Italy in the late 1400s. Signorelli's ability to tell stories through human actions and gestures, rather than symbols, inspired his younger contemporary, Michelangelo, who meticulously studied Signorelli's work... Orvieto also boasts a rich underground world. The town sits atop a vast underground network of Etruscan-era caves, wells, and tunnels. Guided tours of the medieval caves offer a glimpse into how these ancient Italians lived, from the remains of an old olive press to a pigeon coop where the birds were reared for roasting. Even now, you'll still see pigeon (piccione) dishes featured on many Orvieto menus."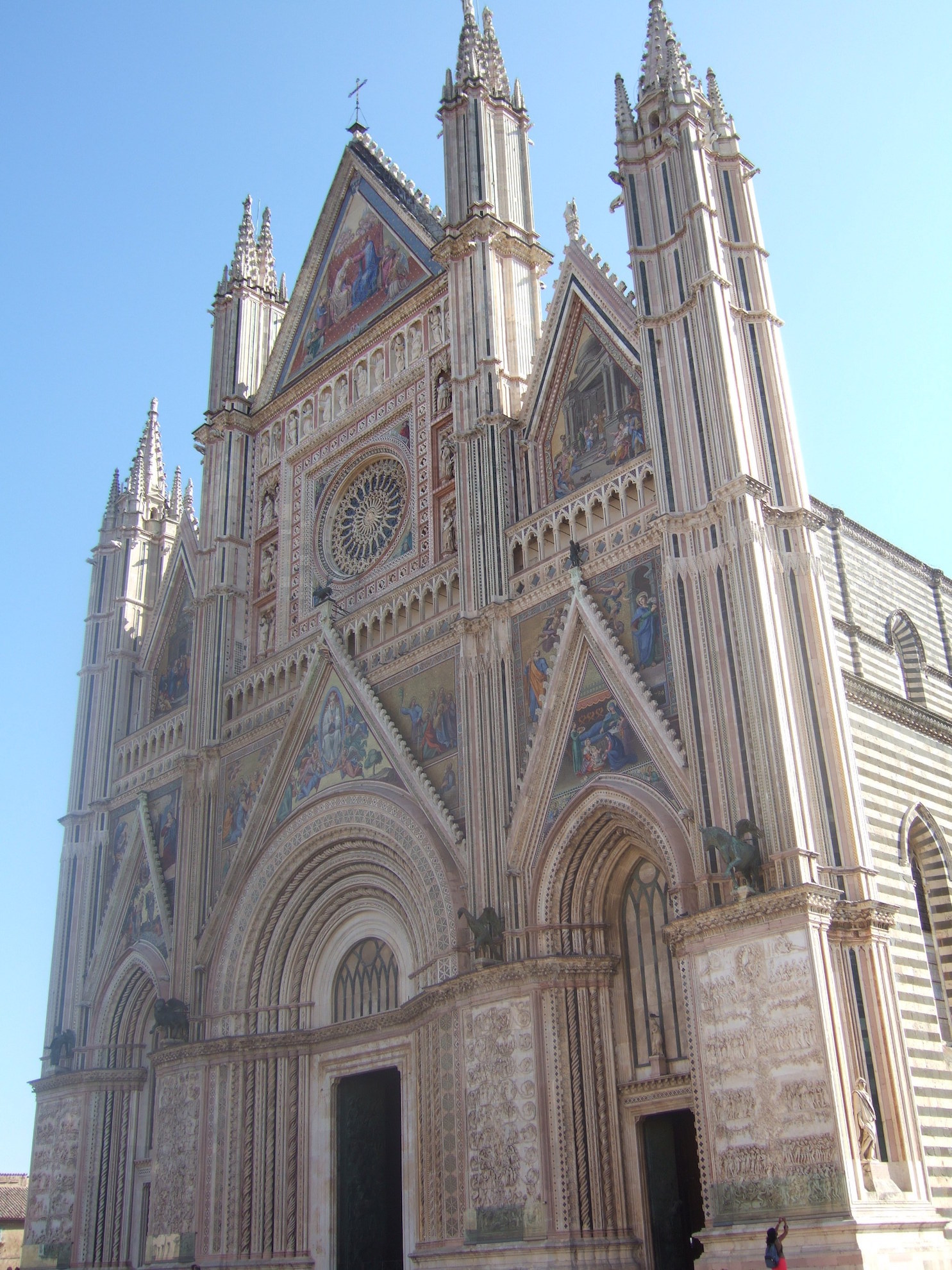 Assisi and Siena are both roughly an hour's drive, Assisi to the east, Siena to the West... Both deserve visits, neither, really, needs an introduction from me... Perugia... Has some fascinating buildings and a superb art gallery...
Smaller, fairly local, places of interest are:
Cetona - Saturday market, great atmosphere, at the foot of Monte Cetona
Lucignano - "Pearl of the Valdichiana", with its elliptical layout based on concentric rings
Chianciamo Terme - A sprawling, large and in many parts genteel town famous for its spas
Chiusi - An ancient Etruscan town bordering Umbria and Tuscany, with a fabulous Monday morning market 
Plus.... North of Cortona - Elegant Arezzo with Piero della Francesca's "Legend of the True Cross" fresco cycle in the Basilica of San Francesco..... In eastern Umbria... Gubbio, Montefalco, Spello, Spoleto.....
If you are creative or artistic.....
There are so many patterns and inspirations all around.... Chimneys, wells, tiles, towers, the patterns created by the cypress trees and the crops, the umbrella pines and the winding country roads... It's a perfect area for writers, painters and photographers!